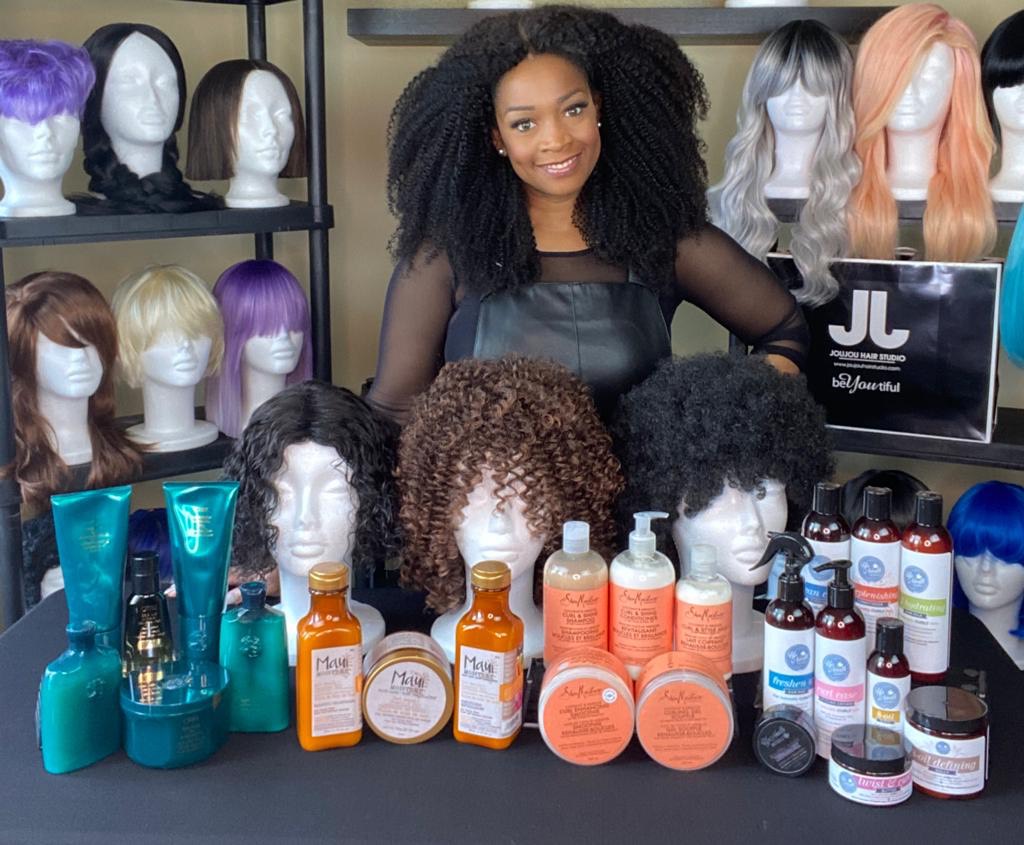 By: Elle Haneke
Everyday we are bombarded with messages and advertisements about the benefits of an array of different  hair products. It is so easy to order right from your phone that it is no wonder that our bathrooms end up brimming with mismatched hair products from several different brands. However, is this best for your curly hair? Celebrity hair stylist, and owner of JouJou Hair Studio, Janet Jackson says no. She emphasizes the importance of using entire curl systems meaning that you use shampoo, conditioner and styling products all from the same company. Janet Jackson stresses that with any type of curl or texture it is important to understand our hair type and then select the appropriate line. She says that "When you use an entire curl system you maintain healthy hair, you optimize your growth and you get your best texture that way".
Jackson highlights four systems for your curls. The first one by Oribe for Moisture and Control  for Type 2 hair. This line includes a shampoo, conditioner, leave in and an oil to seal in moisture. Another great option for Type 2 hair is the Maui Moisture Curl Quench and Coconut  Oil collection. The first ingredient is aloe vera which is amazing for conditioning and promoting hair growth. This system includes a shampoo, conditioner and Curl Quench Curl Smoothie. This hair texture is all about raking the system through from root to end while scrunching the ends so your wave will bounce back. Jackson's preference is air drying this texture but a diffuser is also a great option if you are in a hurry. For Type 3 hair she suggests Shea Moisture Coconut and Hibiscus Curl line with shampoo, conditioner, Curl Milk Gel Souffle and Curl Enhancing Cream. This line even boasts a virtual series you can check out to demonstrate how to use their product. For this kind of curl Jackson recommends using the curl milk and curl smoothie and twirIing the product towards the ends of your hair to enhance definition and get rid of frizz. The fourth line she suggests for all curls is Up North Naturals curly hair system. This comprehensive curl system includes Clean Curls Hair Cleanser, TLC Replenishing Conditioner, Freshen Up Hair Mist, 8 Oil Pre-Shampoo Treatment  8 Oil Defining Hair Gelly, Curl Ease Styling Lotion, GO-2 Hydrating Leave-In Hair Milk, Healthy Edges Smoothing Gel, and Twist & Curl Hair Butter.  For Type 4 curls go in with Up North's butter or jelly to define your curls. She loves that this system has an edge tamer for laying edges or taming frizz.  Also, the freshen up mist is amazing to spritz your curls to freshen them up and is less harsh then water. Another great tip Jackson offers is not putting a lot of heat on your curls as it can change and damage your curl pattern over time.
When companies design systems they create formulas to compliment each other so by sticking with an entire system you are able to maximize the benefits of each product and the system as a whole. All the ingredients used in the various products within the line are carefully selected so that they will support and enhance each other.  Often, when products are tested for performance it is not in isolation but rather the entire collection is tested together to assess how effective they will be in cohesion and their success when used together. Improvements to formulas are then made based on the results from the use of the entire line.
Correctly identifying your hair type and using an entire curl system specially designed for your hair type will help to achieve your perfect curls and promote the healthy growth of your hair!