Every time a celeb attends an event, they have a whole hair team crafting the perfect 'do. But we, regular folks, don't have that luxury. What we may have in common though, is that as soon as summer rolls in, our calendars tend to fill up with events we have to glam up for. Yes, we might treat ourselves to a salon blowout once in a while, but to visit the hairstylist for every birthday party, wedding and baby shower? It can get a little too much – time-wise and money-wise.
Believe it or not, you can achieve a sophisticated, "who did your hair?" look from the comfort of your own home. Our hair stylist, Janet Jackson, shared three easy and trendy hairstyles for any summer event:
LOOK 1: BALLOON PONYTAIL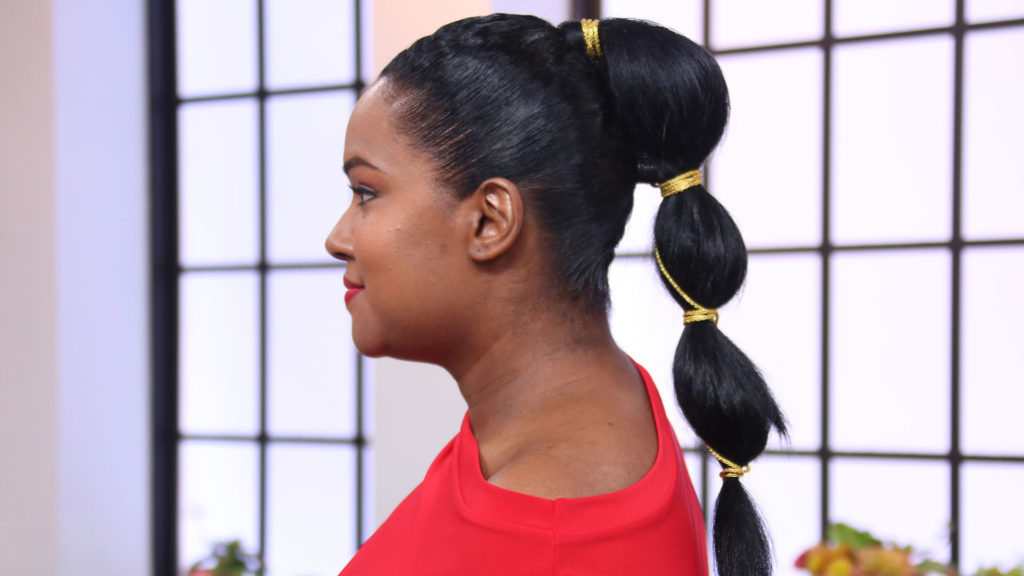 Having your hair up during an outdoor event on a hot summer day is a good call. If you're a fan of the standard ponytail, this is a cool way to take it up a notch. Section off the ponytail with elastics, then pull the hair outwards to achieve the balloon effect. Then tease each section and apply hairspray (Tip: use texturizing spray or powder to tame unwanted frizz). And voila – you've got yourself a Princess Jasmine-esque pony!
LOOK 2: SLICKED BACK
As of lately, the slicked back, wet hair look has been seen all over runways and red carpets. JLO, Zendaya and Sophie Turner are just a few stars who've rocked this style in the past and you can totally do it too! To get your hair to look wet, without looking over-gelled or greasy, use a setting lotion or mousse. Then, Janet recommends finishing off your fresh-out-the-shower look gel or pomade. If you don't want your entire head to look wet, opt for a pomade, clay or working wax. Play it up by having two textures – the top can be slick and shiny while the bottom is crimped or curled.
LOOK 3: LOOSE TWIST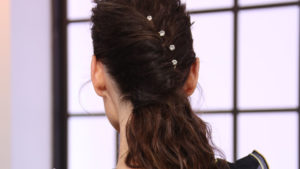 One way to soften the look of your typical, structured ponytail is by adding a twist to it, literally! Start by spraying texture spray starting at the base, then spraying throughout the hair to secure the ponytail. Anchor everything with hairpins, bobby pins or any other hair accessories. Feel free to have some fun with accessories – you can use pearls, flowers, or create an "x" formation with the pins!
For more amazing summer hairstyles, check out Janet's segment on The Social at the link here!