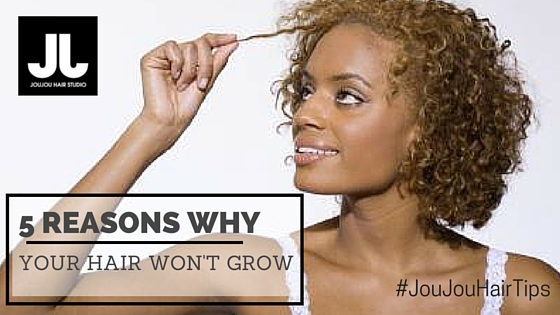 Many women complain about slow hair growth or even a lack of hair growth. The truth is, that regardless of ethnicity or hair type, all hair grows unless the follicle is damaged. So if you're not seeing significant length, it's because your hair is breaking either at the same rate or faster than it grows.
Here are 5 big reasons why you may be experiencing breakage and tips on how to correct it:
Too much styling
Styling the hair too often (heat styling especially) without protective products will put mechanical stress on your strands from the heat and over manipulation. Try a protective style instead, this way your hair can "rest" for a few days or up to a week at a time before being handled again.
Thirsty hair
Hair craves moisture. Moisture is what is needed for hair, especially for textured, kinky/hair, to preserve elasticity. When hair is deprived of moisture, the strands are brittle and are much more prone to split, fray and snap off during styling. To retain your length, you must help your hair maintain its elasticity by making moisturizing and sealing part of your daily hair routine.
Can't take the heat
Too much dry heat (i.e. from flat irons or blow dryers) should be avoided. Dry heat literally boils moisture out of hair- leading to dryness and ultimately breakage. If you want great lengths, go easy on your hot tools and opt for heatless braid outs, roller sets, and wraps instead.
Trim to Win
Your ends are the oldest part of your hair and undoubtedly have been through the most trauma. When you get a split end, the longer you leave it unattended, the farther the split will travel up the entire hair strand. Without regularly trimming away your old, damaged ends, you'll end up having to do a bigger chop than when there was less damage. This bigger chop will, once again, make it harder for you to achieve the length you want. A frustrating cycle that can easily be avoided by checking in for a trim every 6-8 weeks.
Chemical warfare
If you're constant colouring and/or relaxing your hair, breakage is pretty much a part of the deal. Hair is the most healthy in it's natural state (regardless of your hair type), however, we understand that it's fun to play with different colours and textures. If you are using chemicals in your hair, it is even more important to stay on top of your trims, moisturizing, and hair treatments to minimize the amount of damage done to your precious tresses. After all, colours and relaxers are only fun if there is hair to work with!
Healthy hair is growing hair, and if your hair does not appear to be growing, it may be for one of the reasons listed above. Be sure to take care of your hair, but remember that everyone's hair is different and it is most important to be patient and find what works for you. Above all, love your hair because it's yours and it's beautiful!
Want more tips? Call us at 416-255-4247 to book your FREE consultation!