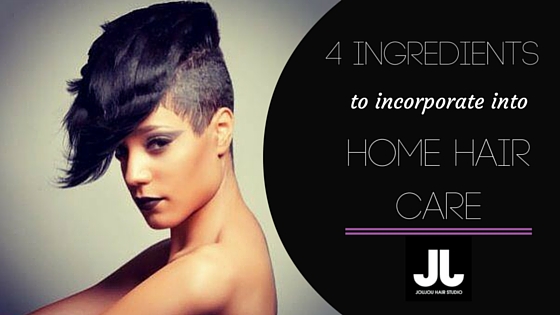 Whether or not you embrace your natural texture, you'll learn that products with natural ingredients tend to work best for your hair. Mother nature has a wealth of ingredients that lend to a happy and healthy mane, and all of these ingredients lend to total hair health.
Take a look at these 4 natural ingredients that are common in popular hair products and how you can incorporate them into your home hair regimen:
Jojoba Oil
Because it's molecular structure is so similar to the oil your skin naturally produces, jojoba is a great oil to moisturize both the hair shaft and scalp. This natural ingredient is excellent for balancing oil production from the root, leaving hair shiny and supple without leaving it greasy and weighed down. Try applying a few drops to your ends before styling!
Vegetable Glycerin
This ingredient serves as a humectant in hair products, meaning that it draws and binds water molecules to itself (and everything it touches). Glycerin also acts as a sealing layer over the hair strand, resulting in even more moisture retention! This is a great ingredient to add to your homemade leave-in spritz in a pinch.
Tea Tree Oil
Tea tree oil is a powerful natural antiseptic for a wide range of scalp conditions ranging from run-of-the-mill dry scalp to the most heinous of fungal infections. Whatever your ailment, tea-tree oil packs an anti-bacterial punch that is sure to provide some relief. Because this is a highly concentrated essential oil, a little goes a long way! Dilute this ingredient by combining it with your favourite carrier oil (e.g. jojoba or extra virgin olive oil) or adding a few drops to your shampoo and conditioner.
Extra Virgin Olive Oil
Extra virgin olive oil is an ingredient found in many natural deep conditioning products because it works well in sealing and softening the hair. "Extra virgin" olive oil is named as such because of its highly unrefined and top-notch quality. With zero chemical processing, this oil is a great pick for the girl who wants to simplify her hair product roster. Use oil this as a pre-shampoo treatment or a nourishing deep-conditioner.
Have you tried any of these ingredients in your home hair-care routine? Tell us your experience by commenting below!