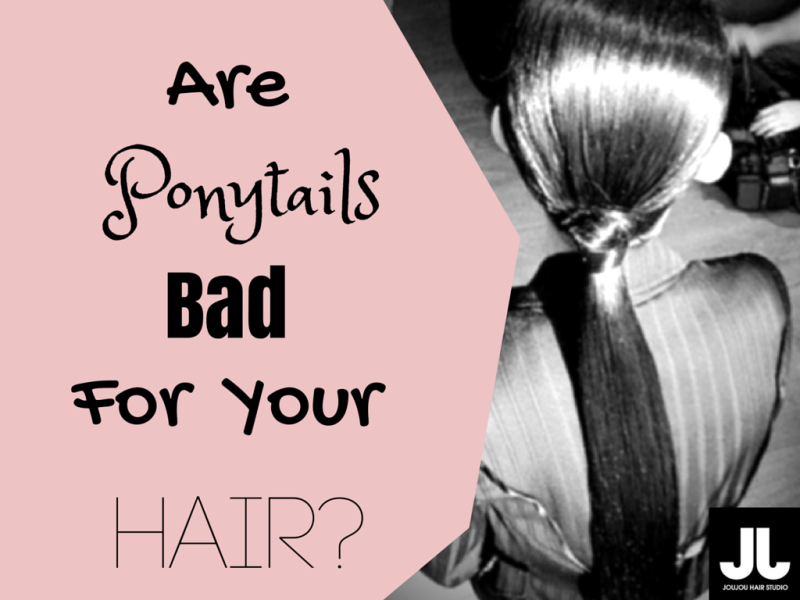 Ponytails are convenient and useful but is it also damaging?
Tight ponytails yank on the delicate hairs at the front of the scalp. These strands are the most susceptible to damage by traction (pulling) and over time they can fall out. While the hair loss is temporary, if you are addicted to ponytails and you especially wear them tight then you are putting your hair at more risk for permanent loss around the hairline. This could also happen when you wear your ponytail in the same spot as well.
Ways that you can still rock that ponytail with minimal damage is to:
Change the location-  whether you wear it at the crown, low, side, high, just make sure it's not in that same location every time you wear a pony. You may not damage the roots but you can break the shafts.
Use the proper ponytail holders- fabric covered holders are great and reduce the chances of your hair getting snagged. If the elastic becomes exposed, toss it there is no point in keeping it. If you don't toss it that same holder can end up in your purse as one of your back up ponytail holders and then you are in snag central.
A great idea is to use the flat elastic ribbon holders that have become more and more popular due to the benefit of distributing the tension, which their traditional counterparts lack.
Lastly, beauty is pain but do you really want a headache just so you can get the perfect top knot? If it's too tight loosen it up. Maybe a messy bun will suffice. Or better yet wear it down. Let your scalp breathe every once and a while. Your nerves will thank you.
Do you know of anymore ways you can rock that fierce ponytail with minimal damage?
Share with us in the comments below!