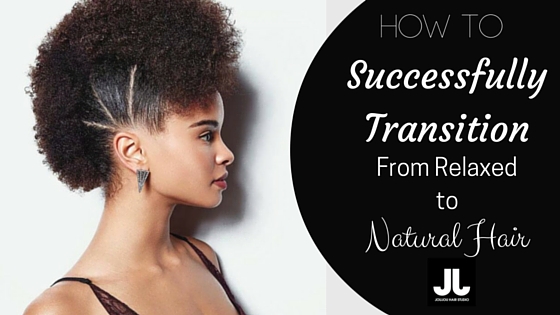 Women of colour are embracing their natural roots in droves. The natural hair movement is made up of ladies who are either tired of the damage that can come from years of chemical relaxing, making efforts to re-discover themselves, or are simply looking to switch it up by rocking a new style. In each of these cases, many women opt not to do the infamous "big chop", choosing to grow out their curls instead. The problem is, when growing out a relaxer, the drastic difference in the two hair textures can cause major breakage if hair isn't cared for with special attention.
If you're trying to go natural without the TWA (teeny weeny afro), here are five ways to ensure that your transition is a smooth one:
1. Deep Condition
It can't be stressed enough. Deep. Condition. Regularly. This is a no brainer for keeping hair intact while tackling two textures at a time. Monthly fortifying protein treatments combined with weekly moisturizing deep conditioning will help your relaxed ends maintain strength during your transition and nourish the incoming new growth. 
2. Detangle With Care
The 'line of demarcation' is where your natural texture and relaxed hair meet and is arguably the weakest point in the hair strand. Many brave transitioners have suffered devastating breakage at the line of demarcation.
To avoid this, try to reduce the amount of detangling and styling done with combs and brushes, instead using your fingers whenever these tools aren't absolutely necessary.
3. Minimize Heat
Every aspiring natural knows that too much heat is bad news. Unfortunately, this doesn't always translate into action during those frustrating hair moments when it seems easiest to just grab a flat iron. However, using heat as you go-to bad hair day solution can result in loss of curl from heat damage and– you guessed it– breakage. There is no remedy to this type of damage and it will only slow the process of your transition.
4. Blend Your Textures
So, now that frequent heat styling is a no-no, how will you make your two textures work on a more than occasional basis? The trick to a successful transition is to make your roots blend as well as possible with your ends. Depending on your curl pattern, the textures may not always match perfectly, but isn't that the whole point of experimenting with your natural texture? Embrace all your new found kinks, coils and curls! Twist-outs, braid-outs, roller sets, braids, buns etc.. will soon become your standard hair styles. Remember to be gentle when handling your hair and don't skip your moisturizing routine!
5. Be Patient
Growing your hair out is essentially a waiting game. Dealing with two different textures can be frustrating at times and extremely overwhelming, especially if you haven't seen your natural hair in years. But if you're not willing to take the drastic step of the big chop, you and your hair are going to need to learn to become friends. So wait it out, and while you're waiting, be sure to appreciate the process every step of the way.
Here's to a healthy, happy, and soon-to-be natural head of hair!
What is your biggest challenge with transitioning to natural hair? Share with us in the comments below!