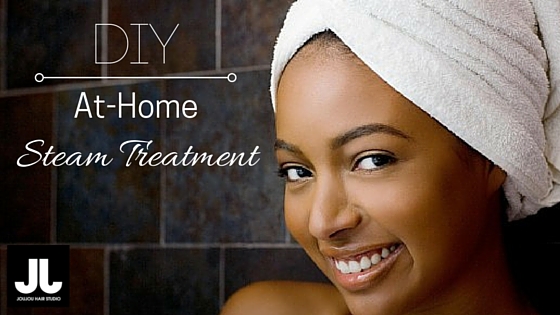 At JouJou Hair Studio, we often tell our clients about the benefits that come with using hair steamers. The reason why these handy salon contraptions are so great is because they open up the hair follicles, which allows each strand to receive all the benefits of deep conditioning treatments.

However, not everybody can make it to the salon for treatments on a weekly basis. The good news is, there is a DIY solution that can get you the same results without having to step foot outside your home (unless, of course, you want to). 
Heres how to do your steam treatment:

Start with freshly washed and detangled hair. Grab your favourite conditioner, saturate your hair with it and follow the simple steps below:

Put on a processing cap (a shower cap or even a plastic bag will work in a pinch). Ensure the processing cap covers your entire head tightly (tie a knot to tighten if necessary).

Grab an absorbent towel from your linen closet, or a turban towel.

Soak the towel or turban towel in water.
Place towel of choice in microwave for 2 minutes or until very warm.
Wring loosely and wrap towel/turban towel around your head.
Cover your towel wrapped head with a plastic bag large enough to fit over your entire head.
Sit under hooded or bonnet dryer for 30 minutes to 2 hours (or you can let your own body heat do the work).
Following your treatment, be sure to rinse your hair with the coolest water you can stand. This seals hair cuticles and locks in all the goodness that your steaming treatment has infused into your hair.
Adding some steam to your deep conditioning routine is a great way to lock in moisture and give your hair a strength-boosting treat! Give it a try on your next wash day.
Did you try this home steam-treatment method? Let us know how it went by commenting below!
Need more tips or personalized hair advice? Call 416-255-4247 to book a FREE consultation!